April 2022: Teacher Feature
English for Art and Design with Helene Yim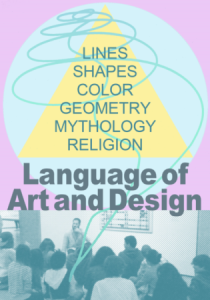 Artwork by Helene Yim
Helene Yim is a teacher whose love of language, art, and design has led her to develop a course called English for Art and Design.* In this course, learners put words to things which are primarily visual. The first part of the course is formal and begins with readings and the study of words that relate to lines, shapes, and 3D forms. Color is then explored to describe optical experiences. The second part of the course offers a glimpse into Greek mythology and the Christian religion, whose narrative traditions became the starting point for an astounding array of artistic expression. Lecture topics include prehistoric linear animal forms, Keith Haring's outline shapes and gesture lines, the Bauhaus School, Impressionism vs. Expressionism, the fulfillment of promise in Greek mythology, and the concept of Passion in Christianity. Students will have weekly reading and writing assignments and give a presentation at the end of each semester.
Helene has been a part-time instructor at Saitama University for over ten years. She also translates documents into English for an American company in Tokyo. Before coming to Japan, Helene worked as a graphic designer in New York City. She was born in Boston and grew up in New Jersey in the United States.
*To find the course, go to the Saitama University syllabus and type "Yim" in the "教員名検索" box and "ESP" in the "キーワード検索" box.