What is the CEED?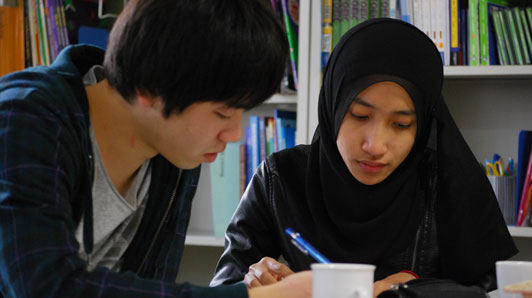 The CEED is the Center for English Education and Development at Saitama University. Here at the CEED, we seek to enhance students' English fluency by making English not only functional as a tool, but also enjoyable. Through the Computer-Assisted Language Learning (CALL) program and Preparation for TOEIC courses, we help students improve their TOEIC test-taking skills and scores and thereby improve their employment prospects. Through Academic Lecture, Writing, and Speaking courses, the CEED immerses students in a variety of lectures in English ranging from International Relations to Psychoanalysis while also giving them a firm grasp of critical thinking, debate, research writing, and public speaking skills.
In addition, the CEED has an English Resource Center (ERC) with full-time native English speakers from around the world on staff. Students can drop by the ERC for conversation practice, take out videos, DVDs, music CDs, magazines and books, and peruse a wide variety of materials from countries all over the English-speaking world.
We welcome any questions you may have about our program and hope you will consider Saitama University for a rigorous as well as personal approach to your education in English. For more information, please contact The Center for English Education and Development at cllews@gr.saitama-u.ac.jp.
Location
Click here for directions on how to get the CEED (and the CEED's English Resource Center) from the Saitama University front gate.
Contact Us
Telephone: 048-858-9236
Fax: 048-858-3705
Email: cllews@gr.saitama-u.ac.jp
Center for English Education and Development (CEED)
Saitama University
255 Shimo-Okubo, Sakura-ku
Saitama-shi, Saitama-ken 338-8570
Japan